SOLARTECH HAND HELD LANTERN/EMERGENCY LIGHT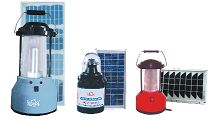 Portable, light weight, high efficiency, ABS Plastic Body with acrylic chimney, having inbuilt rechargeable SMF battery, Compact Fluorescent Lamp, Omni direction covering 360ºC, Electronic Circuit with Crystalline Silicon SPV module with Over Charging, Deep Discharging, Reverse polarity protections.
Suitable as emergency lights in households, officers, army dets, posts and villages. These are charged by Solar radiations but can also be supplied with AC Chargers (optional) or with both.
| | | | | |
| --- | --- | --- | --- | --- |
| MODULE/NAME | SPV MODULE | CFL/LED | BATTERY | ADDITIONAL FEATURES |
| EMLITE 60403/3-A/LED | 3W | 2-3W LED | 6V 4AH | Mini Lantern with AC Charger only |
| EMLITE 60403/5-A/CFL | 3W | 5W CFL | 6V 4AH | With AC Charger only |
| EMLITE 60405/3-S/LED | 3W | 2-3W LED | 6V 4AH | With Solar Charger only |
| EMLITE 60805/5-S/CFL | 3W | MINI LANTERN CFL | 6V 4AH | Both Solar and AC Charger |
| SOLARTECH SOLAN 8 | 3W(OPTIONAL) | 8 Nos. LED | 6V 4AH | With AC/Solar charger(optional) |
| SOLARTECH SIKSHA DEEP | 3W(OPTIONAL) | 2-3W LED | 6V 4AH | With AC/Solar charger(optional) |
| SOLARTECH SLTP-2 | 2W-3W(OPTIONAL) | LED TABLE LAMP | WITH 3D SIZE | With AC/Solar charger(optional) |
| EMLITE 60803/5-H | 3W | 5W CFL | 6V 4AH | With Solar and inbuilt AC Charger |
| EMLITE 60805/5-H | 5W | 5W CFL | 6V 4AH | With Solar and inbuilt AC Charger |
| EMLITE 60805/7-H | 5W | 7W CFL | 6V 8AH | With Solar and inbuilt AC Charger |
| EMLITE 120708/7-S | 8W | 5-7W CFL | 12V 7AH | With Solar charger only |
| EMLITE 120710/7-S | 10W | 7W CFL | 12V 7AH | With Solar charger only |
| EMLITE 120712/7-S | 12W | 7W CFL | 12V 7AH | With Solar charger only |
Accessories(Optional)
MODEL
FEATURES
SLAC - 12
AC/DC converter to charge solar Lantern from main
SLCON 3-6-9-V
DC-DC Converter for 3V/6V/9V output from 12V Solar lantern
SLCON 3-6-9(In)
Without inbuilt DC-DC Converter for 3V/6V/9V output
Socket and connector
For powering fan/mobile charging
Solar Pedestal Fan
12V 200W DC Pedestal Fan
Solar Table fan
12V 200W DC Table Fan
Mounting Frame
For SPV Panel